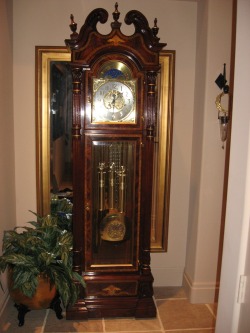 Specializing in Grandfather Clock Service, Antique & Modern Mechanical Clock Repair
Serving the Greater Austin
and Surrounding Communities

"If We Can't Fix It"
"No One Can"
Patrick Russell
512-255-9663

***

CALL FOR APPT.
1127 Greenbriar Loop
Round Rock, Texas 78664
E-MAIL: backintime101@gmx.com

You are visitor


Clocks are works of art that add a "heart beat" warmth to a home. A clock that is a family heirloom is a treasure of value beyond dollars or words. We respect that here at Back In Time Clock Repair, and will do everything possible to preserve your clock.
I started working on clocks back in 1993 and became a member of the National Association of Watch and Clock Collectors (NAWCC) in 1994. I am also a member of
the NAWCC South Western Chapter-15, and a member of the Capital Area Watch and Clock Makers Guild in the Austin Texas. I am also a Certified & Lic. A & P and a retired Helicopter Mechanic.
We work on all brands of clocks: American, French, German, etc.
Howard Miller, Herschede, Ridgeway, Sligh, Hermle, Urgos, Kieninger, Ansonia, Seth Thomas, Sessions, Ingraham, Waterbury, New Haven, Gilbert and others to numerous to mention.
Other Catagories: Shelf Type: Kitchen, Black Mantel, Bracket etc. Wall Type: Box, Vienna, Schoolhouse Regulators, Banjo,
and Gallery.
Please Call For Appt. 512-255-9663
For your clock repair needs or E-mail us
at: backintime101@gmx.com
This is me and my lovely wife Natalie, who has become a great asset to my business
These before and after photos below, are of a grandfather clock called the "DUNKIRK" I believe named after the Battle Ship.
It was hand made about 260 years ago approx 1750 to 1755