Professional Grandfather Clock Repair Service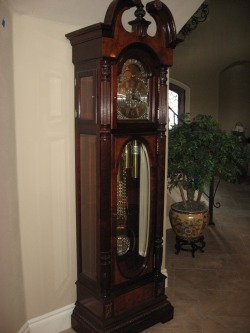 Grandfather Clock Repair & Service Calls
For the Greater Austin and Surrounding Communities
Communities include:
Austin, Bee Cave, Buda, Cedar Park, Dripping Springs, Georgetown, Kyle, Lakeway, Leander, Liberty Hill, Manor, Pflugerville, Round Rock, Sun City, West Lake Hills, and others.
Services Offered:
* Service Calls.
* Minor repairs/adjustments.
* Clock setup and start up (new & old clocks; clocks that have been moved or were in storage, etc.).
* Major repairs: movement overhaul and (mechanism) replacement at customer request.
Westminster Chime, Triple Chime, or Sequential Chime grandfather clocks repaired.
Rod chime, or Tubular Chime (5-tube or 9-tube) types repaired.
Specializing in:
Store-bought grandfather clocks (Howard Miller, Ridgeway, Trend, Sligh, Ethan Allen, etc.) and including all current models.
Antique Grandfather Clocks, also called ( Tall Clocks ) I have a picture on the home page of my last Tall Clock I worked on, "The Dunkirk" made around 1750 to 1755
Are you ready for a "House Call"?
Please Contact Me at 512-255-9663 or E-mail: backintime101@gmx.com.
Otherwise, more details (and a "questions and answers" section) about my services, may be found below.
References can be read, at my online add at:
YELLOWPAGES.COM
Type in: Back In Time Clock Repair, under (Find) and type in Round Rock, TX under (Location) then click on "read it", or if you are a customer and want to add a comment, click on "rate it"
REVIEWS:
This guy is good. Provided by YP.com Posted by r.henson on 09/14/2011

This guy is good. Pat came at the agreed appointment time on three different trips. He cleaned and repaired three antique wall clocks, and two grandfather clocks. He is a perfectionist and his love of old clocks is obvious. He will not give up till it is running puurfectly. Highly recommend him.
Business Response from Patrick
Mr. Henson thank you so much for your thoughtful response, to my work on your clocks. I was very pleased I was able to get your Herschede grandfather repaired and keeping excellent time, and have to say it is one of the finest clocks I have worked on. Also I wanted to thank you and your wife again, for being so nice to me.



Fantastic experience Provided by Citysearch Posted by by lloudon at… on 08/30/2011

When my grandfather clock was moved from New Mexico to Round Rock, it suffered some damage. We missed the sound that we had been so accustomed to and had Patrick come to check it out. After his expert work on it, we have our chimes back and are very pleased with Patrick's work. He did exactly what he said he would do exactly when he said he would do it. We are VERY pleased, and I highly recommend Patrick's work to anyone that might need his services.


I decided to have 3 German wall clocks… Provided by YP.com Posted by rick78749 on 06/17/2011

I decided to have 3 German wall clocks restored as a surprise for my wife for our 10th anniversary. All 3 had belonged to her parents and had been stored for 20+ years. They all needed wood trim repairs as well as the mechanism cleaned and whatever clock repair people do to get the clock to keep good time. Patrick's reviews are why I called him. He was very nice and answered all my questions and I had a good feeling about him, so I took all 3 clocks to his business. I told him that I was very concerned that the clocks were restored properly because of the sentimental value they had for my wife and that I had hoped to have one ready by our 10th anniversary. He spent an hour explaining what type of clocks they were, how they worked and what he would do to restore them. He quoted what seemed to be a fair price and then mentioned how busy he was but because of the special occasion he would make sure the first clock was ready by our anniversary. I picked what I thought would be my wife's favorite and left feeling like I got lucky finding Patrick. When I picked up the clock a couple days before our anniversary I was very happy. The finish was great, the delicately carved trim that had come off was back in place like new, the chimes sounded unbelievable and the clock mechanism looked new. It has been hanging on the wall for over a week and is keeping great time. My wife was completely blown away and we are looking forward to picking up the other clocks when there ready. I would highly recommend Patrick. He is one of the good guys.
Business Response from Patrick
Rick, thank you for taking the time to write this review for my business. Its people like you that make my job more enjoyable.I look forward to working on your other two Antique Wall Clocks, and will contact you when I have them ready for you. Thanks again for the nice review. Patrick Russell



Back in Time Clock Repair Provided by Citysearch Posted by by… on 04/06/2011

Hands down, this man is the best!! We own eight antique clocks and we were having problems with the one we had just acquired. Called Patrick for an appointment, arrived (expecting to drop off my clock), explained my situaton and was in and out in all of about ten minutes, clock in hand!!!! I've had other clocks repaired before but never with the explanation and one on one that I got with Patrick. This man is knowledgeable in his field. And to put icing on my cake he didn't charge me a dime. Goes without saying, I know who I'm trusting with my other seven clocks around the house.....

Service and Repair like it "Used to Be"!
Provided by YP.com
Posted by lawtees101 on 09/30/2010
Our grandfather clock had been sick for a long time but we hesitated to call any repair service since excellent service and professional conduct seemed (to us) to be a lost art, especially in something as sensitive and intricate as an old Grandfather clock!
After reading Pat's website, we called him to come out and look at our clock. He came out, on time and with all of his tools.
After a thorough going-over, he knew exactly what the problem was, quoted us a more than fair price.
He ordered the parts and when they came in, he tested the for a couple of days in his own shop to make sure they were perfect,
then called us and set an appointment to come out and install them. Our clock now works wonderfully! And, if something unforeseen should happen, we have a 2 year warranty!
We recommend Pat Russell unconditionally as one of the craftsmen who still give it a hundred and ten percent.
Business Response from Patrick
Wow! That was a very thoughtful responses you gave me, thank you so much. I am very pleased to hear your Grandfather clock is running well and that you are happy with the work I did. Once again thank you for your business. Patrick
good business
Provided by YP.com
Posted by laf_girls on 09/26/2010
What a pleasant surprise! My daughter had dropped her cuckoo clock and the hands weren't working correctly.
I decided to also repair another clock with broken hands at the same time. I called and met Patrick the same day at his home.
He was very friendly and rather then giving me the expected quote, he simply set to fixing the clocks while we chatted.
Once they were fixed he said "no charge". What a nice way to do business! When I have other clock repairs, I'll definitely remember his good business dealings.
Business Response from Patrick
Thank you for taking the time out, to write a nice review.
I enjoyed doing that for you, as it was a simple fix, and I didn't feel the need to charge you anything as it was not that big of a deal.
Grandfather Clock Expert!!!
Provided by YP.com
Posted by hanksmith9901 on 09/07/2010
FIVE STAR RATTING *****
I have used Back In Time Clock Repair several times in the past, for repairing four antique wall clocks, and all of them are running perfect. I am writing this today, because Mr. Russell came out to our home several weeks ago to work on my
Grandfather Clock that hasn't worked for years. I just have to say he came out and pulled the works or mechanical part out
of the case and looked it over, and spotted several issues with it and showed me what was wrong with it,
and said he would have it up and running shortly, and he did, and not only that My Grandfather clock is running better
than it ever has. I was so happy he was able to fix it for me. Also
I have to say he is very nice and polite.
Thank you for doing such great work , I will be sure to tell all my frends about you.
Hank
Business Response from Pat
Hi Hank, I wanted to thank you for the kind words, and also for being a long time customer.
Provided by YELLOWPAGES.COM
StarStarStarStarStar
Exceptional
Like a Heart Surgeon
Posted by Nanciful53 on 08/11/2009
Pat Russell with Back In Time Clock Repair is amazing. Clocks working well are his passion and it shows. He worked on a clock I bought at an antique shop that was not able to wind, let alone run. He just looked inside and knew he could have it up and running great. When he finished and returned it, he could not wait to have me hear it chime. it's been years and it is still running terrific.
If he was a heart surgeon, i would trust him, my heart.
Provided by YELLOWPAGES.COM
StarStarStarStarStar
Exceptional
Great job!
Posted by grit0416 on 02/25/2009
Thanks so much to Patrick Russell who just repaired our300+ year old grandfather clock. He was very professional, prompt and personable. The fee was quite reasonable. We just moved to Austin from Atlanta and the clock had stopped working. The clock is working great now. We highly recommend Back in Time Clock Repair!! Rick and Margaret Norris Austin, TX
Provided by YELLOWPAGES.COM
StarStarStarStarStar
Exceptional
An Exceptional Workman
Posted by carbar212 on 10/24/2008
I knew that my clock would be repaired well when I first met Pat Russell. He loves his work and is enthused about it so much that I too became fascinated with the many and varied clocks he has everywhere. It is a pleasure to see someone dedicated to this extent. He took the time to explain what was wrong with my clock and what he did to correct the problem. I won't hesitate to recommend him to my friends and neighbors, and bring any other clocks that aren't working right to him.
Provided by YELLOWPAGES.COM
StarStarStarStarStar
Exceptional
Great Service
Posted by wjoh60a on 07/23/2008
Was very impressed with the rapid response to my request for the repair of a wall clock. Clock now works well, pendulum operates correctly and the chimes are working again. Best recommendation is my plan to return whenever I need any other clock repairs.
Provided by YELLOWPAGES.COM
StarStarStarStarStar
Exceptional
Outstanding Service
Posted by jeffsmitty81 on 06/14/2008
I had two clocks repaired at Back In Time. Both clocks are now perfect and my wife is very happy, therefore I'm happy! For anyone looking for EXPERT clock repair, Pat Russell is your g He is an extremely technical and detail oriented individual. Exactly what you would expect from a former Helicopter Technician. Pat is passionate about his work and has made many custom jigs and fixtures to do antique / unique repairs. His prices are more than reasonable and I was very pleased with the timeframe it took to repair my clocks.
Provided by YELLOWPAGES.COM
StarStarStarStarStar
Exceptional
great service
Posted by ldlewis on 05/12/2008
Did a great job fixing our clock - highly recommended for friendly and professional service.
Provided by YELLOWPAGES.COM
StarStarStarStarStar
Exceptional
I would highly recommend Back ...
Posted by joniwilson on 02/04/2008
I would highly recommend Back in Time for all your clock repair needs. The owner went out of his way to help me. Pat, thank you very much for your time and help with my two little vintage clocks. I will be recommending you to my friends. Thank you again.
Provided by YELLOWPAGES.COM
StarStarStarStarStar
Exceptional
Great clock worker
Posted by Xcorekid88 on 12/06/2007
He knows what hes doing. Hell he even told me how to find the whole business on yellow pages. Very nice. He actually cares about his customers, in fact, he seems more of a friend then a businiss owner. He does everything well, I would recommend him everytime.
Provided by YELLOWPAGES.COM
StarStarStarStarStar
Exceptional
Competent and courteous
Posted by Karenburnup on 10/15/2007
Mr. Russell was friendly and quickly fixed my clock. He obviously loves his work. I would recommend him highly.
Provided by YELLOWPAGES.COM
StarStarStarStarStar
Exceptional
Fabulous Service
Posted by sandraparis on 10/10/2007
Back In Time Clock Repair provided me friendly, professional service. Very accomodating and extremely reasonable rates! Chosen over other local clock repair places for how I was received during my initial phone call to inquire about assistance. Highly recommended. A+++++++ Thank you, Pat!
Provided by YELLOWPAGES.COM
StarStarStarStarStar
Exceptional
Friendly Service
Posted by rlc_temp_reg on 09/24/2007
Pat was very friendly and knowledgeable. The service I received was professional and very reasonable in price.
Provided by YELLOWPAGES.COM
StarStarStarStarStar
Exceptional
5 Star Rating
Posted by Missy-Ms on 09/17/2007
A very nice person to do business with. He went out of his way to help me with a clock problem. I highly recommend this business for all your clock repair needs. Thank you again Mr. Russell
Provided by YELLOWPAGES.COM
StarStarStarStarStar
Exceptional
Superb Service, Highly Recommend!
Posted by wesleyinaustin on 08/23/2007
A++++ Customer Service, would definitely use again and refer to others! Recently, I decided to have a wall clock that's been in my family for years repaired. I found Back in Time Clock Repair in the yellow pages and hired Mr. Russell to repair our clock. I inherited this years ago, but it had never worked and was really only a wall decoration before. I'm very pleased with the repair. I didn't even know my clock chimed, but it's now in tip top condition and keeps perfect time. I found Mr. Russell to be very careful and patient even taking the time to show me other intricate clocks he was presently working on. I would highly recomend this company and am very satisfied with the excellent workmanship! Will definitely use again! Thank you!
More Details:
Fast, dependable service. Grandfather repairs are often completed in one day. Some jobs require a few days, and a few will (at most) require a couple of weeks. No long waits, no hassles, no problems, no headaches, and no disappointment.
2-year guarantee on new movements:
The guarantee covers everything: parts, labor, and house calls.
1-year warranty on overhauled movement.
Reliability:
After I've performed a major repair on your grandfather clock, it will do what it's supposed to do, and it will do so properly and consistently for many years.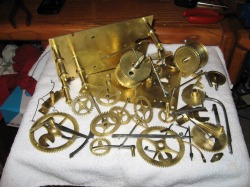 How we overhaul and clean your clock:

We do the following steps to restore your clock to excellent operating condition. The movement is taken apart and cleaned with an Ultrasonic unit, and examined for wear and damage. The necessary repair work is carried out including repairing the pinions, polishing the pivots, bushing worn pivot holes, checking and repairing the mainspring ratchets, testing and correcting wheel meshing, and checking the mainsprings. The parts are cleaned again, the pivot holes cleaned with peg wood, the pivots given final cleaning, and the movement is assembled and lubricated. Then the movement is checked for proper operation, and is tested with minimum power.

The movement is installed, put in beat and any other necessary adjustments made. Finally, the clock is tested with a high tech electronic timing unit, that has Interface Software that allows me to accurately regulate your clock, with an Optical Sensor, and be able to watch the progress on my computer as it is in operation. This High Tech Equipment has allowed Clock Makers, to greatly speed up the process of regulating clocks, within hours as apposed to the old days, where you had to depend on your hearing, to put a clock in beat, which could take days and up to a week to accomplish this process. After this process your clock will be test run for approx. two weeks to make sure there are no other issues. Then you will be notified by letter, phone or e-mail that your treasure is ready to go home.

Clock Repair Charges:

Charges will be based on how many springs, weights there are
on the clock and may vary depending on the model number of the clock movement, also based on what kind of damage or ware your clock has.
After your clock is received, and inspected for damage, I will then be able to determine what the estimate for repairs will be.
I will call and e-mail you with the estimate.

Estimates for repairs:
Local Customers can get there free estimate when they bring there clock to my shop.



---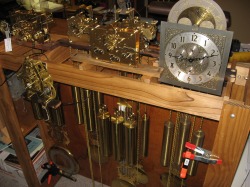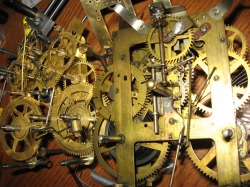 There is one provision in regards to my estimate:

If there is any unforeseen damage, such as pivots that need to be replaced, or gears that are so worn, or damaged. These items will need to, be sent to an expert that is equipped and can make new gears etc. This will help me complete repairs more quickly. Any part needing these repairs, will add to the cost of the repairs. Payment for these extra repairs is require in advance, prior to parts being sent out for repair. Having said that 95% of the time I wont even run into this problem. You will be advised if this comes up.
Also if a part happens to need this type of repair, I will take photos of the damaged part and send them to you, so you have a good understanding why this will need to be repaired.

---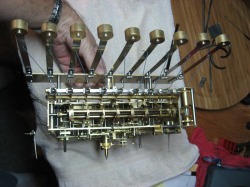 Approx time for repairs to be completed:

It can take as little as two to three weeks, however some clocks may take up to two to three months depending on how complex or how many clocks are in front of your clock, or if they have major issues.
After clock repairs are complete, I will test the function of the clock, and regulate the clock as required. During this period I will notify you by phone, and send a copy of your invoice via e-mail.

Having said that, local customers with the need for a Grandfather Service call, can be taken care of very quickly.

Payment is required to be either by: Personal Check, or Cash.



---